w.c. 4.11.19
This week in our topic lesson we have been learning about the Stone Age settlement Skara Brae. We used maps to locate Skara Brae and watched some interesting videos to find out more about the settlement. Whilst watching the videos, we made notes and used this research to create our own information posters. 
W.C. 21.10.19
Arts Week
This week all of our lessons have been based around 'Arts Week'. It started with a collective worship led by an artist named Rupert who specialises in ceramics. He explained that our theme for the week is 'light'. Throughout the week we have been working on both individual and group art activities. These have included:
Creating clay tea light holders

Building and painting a papier mache volcano

Using clay slip to paint autumn leaves

Creating natural art based on the work of Andy Goldsworth

y
At the end of the week, we will display are our finished artwork to share with parents for open afternoon
W.C. 7.10.19
Today we have been preparing for our 'Great Soup Share' event which will take place tomorrow. We have spent the afternoon following recipes and learning safe cutting techniques to create some delicious soups! We have used vegetables such as pumpkins, onions and tomatoes which have all been grown on site in our vegetable patch. 
Please see the following website for more details about the event:
https://schoolgardening.rhs.org.uk/Competitions/Big-Soup-Share
(Photographs to be uploaded)
W.C. 30.9.19
Maths
This week we have been learning about column addition in maths. We have thought very carefully about how we set our calculations out in clear columns and have even started tackling questions involving 'carrying'. During our starters, we have been practising our times tables particularly our threes. 
R.E.
Over the past few weeks, we have started our Understanding Christianity unit of 'Creation'. Today we reflected on the importance of the bible and how Christians use the bible to guide them through life.
At the beginning of the lesson, some children were asked to create boats using a single sheet of A4 paper. After a few attempts, we realised that it was quite a difficult task! Thankfully, afterwards we all attempted to create a boat following some origami instructions and with a little help from Mrs Corbett! We found that we were much more successful with the help of the instructions. 
Later on in the lesson, we were set another task of directing a blindfolded partner around the classroom avoiding all obstacles. It was great fun and showed us that instructions are extremely useful.
W.C. 23.9.19
This week we have been busy completing our art work inspired by the work of French painter Henri Rousseau.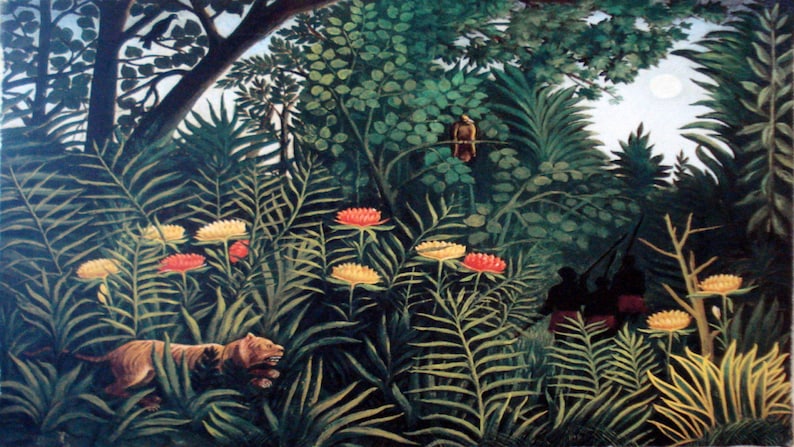 We have used a combination of a colour wash, paint and pastels to create jungle scenes.